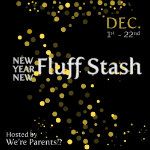 Well, this has been a really fun event to participate in and I hope you, my fans, have truly enjoyed the fun giveaways provided by such wonderful companies! The "clean up" giveaway is sponsored by a company,
Little Love Buns
, that makes products specifically for just that,
cleaning up
(dirty diapers). Their detergent is made with only the best for your babies and diapers in mind, as it's eco-friendly, hard water friendly, and they have a huge variety of yummy sounding scents!
A nice message about this company from their website:
My name is Dallas and I am the owner of
Little Love Buns LLC
. I am a proud wife and mother of 3. I started cloth diapering after the birth of my twins. I loved the cute and affordable cloth diapers, and my kids seemed to like them as well! However, I had a hard time finding a detergent that I just loved. I used several of the well known brands, but never found one that took care of all our diaper issues. The smell, stains, build up and irritation are just a few battles I've fought. After tons of research, I decided that I wanted to make a detergent that I would love and that would take care of the issues I was having. So after months of trying different recipes and having other cloth diapering parents try my product, I finally came up with what I thought was the prefect recipe.
One of my children has very sensitive skin and eczema so I wanted to come up with a detergent, wipe solution and soap that would help and not hurt her skin. I found ingredients that blended well together and worked wonders for her. I also found that after using the soap on my hands they stopped being so dry from washing them so often. I pride myself in making almost every product that I sell. I am proud of my product and truly hope that you love them as well!
Enter below to win this great product:
1 Regular Size Bag of Detergent ($9.50 ARV)
Open to US & Canada
Giveaway ends December 23, 2012 at 12:01 am est (rafflecopter time)