I am expecting my 3rd child any day now and in honor of this upcoming birth, I have teamed up with
Buddy Doo's Adventure-Roos
&
Little Angel on a Mission
to feature some of our absolute must-have baby/mama items!
Day One Features:
Savy Mommy Thoughts
All of my babies have just loved being swaddled! As you may or may not be aware, babies have crazy reflexes when they are born. They don't really have the ability to control their limbs and often will randomly flail them around and wake themselves up. This can lead to a lack of sleep and their disposition in general to decline. This is where SwaddleTee can help!
SwaddleTee is the most effective sleep aid on the market for mothers and babies.

SwaddleTee is designed to make your little one feel comfortable like in the womb.
The result is longer, uninterrupted sleep for both mother and baby which produces a happier, healthier family.
Pictured: Baby RJ
Baby RJ is not the kind to like his arms wrapped. Baby K was the same way as she cannot have her arms tucked down. I really didn't know how he would feel about the SwaddleTee. Once I actually got him into the SwaddleTee he fell right asleep. He was warm and comfortable, and we changed his diaper without waking him. He wakes up immediately once you start to change his diaper usually, but once we had him in the SwaddleTee he just napped away.
I absolutely love how easy it is to use the SwaddleTee, it takes seconds to make a baby burrito -wink-
Overall I am totally happy with our SwaddleTee especially with Baby RJ sleeping more hours. I think this definitely made my baby shower list for future expecting mommy and daddies.
"Mommy Points"
from the SwaddleTee website:
The material is 100% Pima Peruvian cotton that is of the softest, non-toxic, hypo-allergenic
Machine washable.
Security. Simplicity. Comfort
Easy to change your little one's diapers without waking them up.
The design makes it impossible for baby to wiggle his or her way out of it.
One lucky reader will win there very own SwaddleTee. Enter in the Giveaway Tool below:
Connect with SwaddleTee on:
Facebook|Twitter|Pinterest|YouTube
You can purchase your own SwaddleTee here:
Clicky-Clicky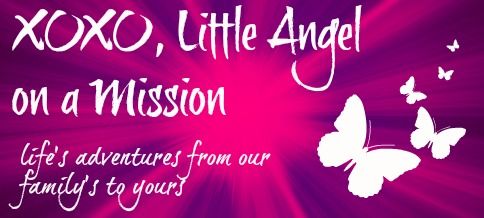 Little Angel on a Mission, Savy Mommy Moments, and Buddy Doo's Adventure-Roos are not responsible for prize fulfillment. Little Angel on a Mission received this product in exchange for my honest review, my opinions may differ.