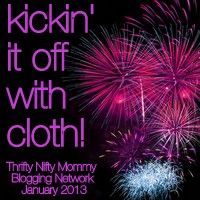 It's Day 28 of the Kickin' It Off With Cloth event by the Thrifty Nifty Mommy Blogger Network and I am happy to introduce you to Moraki. I am really excited to share this diaper review with you, as I just love companies that

are

mama owned and sell products made in the USA!
About Moraki (from their website):
Moraki, Inc. is a mama owned, conscientious manufacturer aimed at creating high quality, innovative, and stylish reusable cloth diapers and other family products while stirring awareness in sustainable living and waste reduction. Our focus will remain on supporting local communities and individuals as we grow. The goal of Moraki is to offer products that eliminate waste, backed by outstanding customer service.
Our motto is "protect baby and earth."
We currently offer an AI2/Pocket Diaper and innovative hemp/cotton inserts. They function well, fit 7-40+ lbs, and provide a trim fit for a newborn and heavy wetting toddler. All of our products are made in California, USA by locals moms and we offer an incredible warranty plus a 30 day wash and wear guarantee.
My Review:
From the moment I opened the Moraki website, I couldn't wait to receive my diaper! Not only is the company wonderful, but the diaper designs are so cute! I was given the option of choosing my design and after much debate, I settled on the Hippie style. I wanted something that was really colorful, but also gender neutral so that it could be reused by any future children.
When I received the package, I couldn't wait to rip it open and of course, as expected, I was thoroughly impressed! The diaper was really beautiful and included with my review package were all three sizes of their super soft organic cotton and hemp inserts.
They were all wrapped in a cute package with colored twine, a little instruction guide, and a beautifully hand-written note from the owner.
Some of my favorite things about the Moraki diaper are:
Prepped and ready to use right from the package for daytime.
Ready for overnight in just a wash or two.
One size, so they will last from newborn through toddler. At 20+ lbs, Little A has three sets of snaps to grow into.
AI2/Pocket design which is versatile for your cloth diapering needs/preference.
Snaps, so no velcro tabs to worry about.
Trim fit, not bulky. Even with 2 inserts.
Excellent "leg room", so no pinching little thighs.
Super absorbent and soft inserts in three versatile sizes which can be folded to fit.
Super cute and handmade/sold by moms like you!
During the day, we used it with the medium insert laying inside the diaper (not stuffed) and it really was super absorbent! After two+ hours, she didn't have a single leak and no rash. She almost always gets a rash if she spends that much time in a disposable,even with diaper cream. But, with this diaper, no cream necessary and she was rash free! That's a huge plus in my book!
At night, we used the Overnight stuffed into the pocket of the diaper and then the small or medium on top. Again, no leaks! We use a different brand of fitted diapers overnight sometimes and they can be really bulky which makes getting her pajamas to fit an issue. But the Moraki was really trim and more absorbent!
Overall, we really love our Moraki and it has quickly risen to one of the favorite diapers in my stash! It is stylish, super absorbent, versatile and easy to use/wash! I would recommend this for any cloth diapering mom or mom that is thinking about trying it!
Learn More: Visit the Moraki website to learn more about this company and their awesome cloth diapers!
Get Your Own: Go to their

online

shop, browse their cute mommy-made styles and start your Moraki addiction today! Don't forget to buy their super

absorbent

inserts!
Win It: Enter below to win your very AI2/Pocket diaper from Moraki!
a Rafflecopter giveaway
Be sure to check out all of the my open giveaways here!
*I was not financially compensated for this post. I received a product for review purposes. The opinions are completely my own based on my experience.*